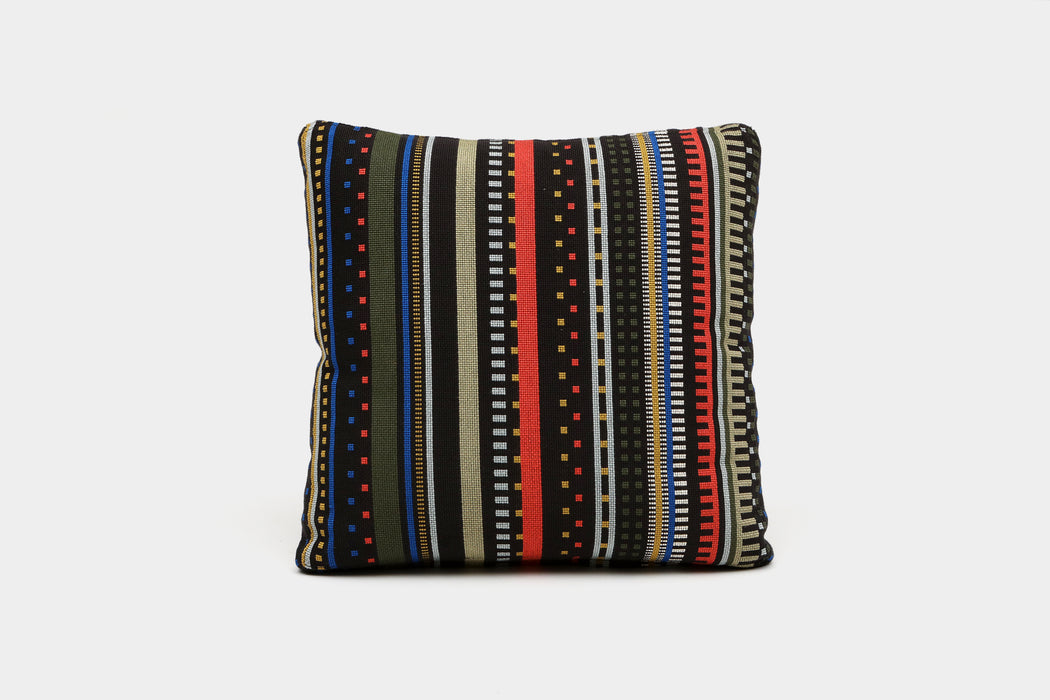 ARTLESS Pillow made with Paul Smith fabric.
Point by Paul Smith
Dense rayon yarns in warp and weft are secured by a fine nylon binder, forming a gridded texture reminiscent of needlepoint embroidery or traditional grospoint transport cloth. Chosen for its clarity of color, this balanced construction highlights semi-lustrous rayon yarns in a wide array of rich hues including persimmon, mustard, loden, burnt sienna, and ultramarine. Whereas the first group of eleven featured five distinct stripes, the bold colors—crimson, mandarin, citrus, grass, cyan, and cobalt—work around a single design that allows for expanses of solid color. These truly clear colors result from Point's unique construction in which superfine nylon threads bind substantial rayon yarns with an almost metallic luster. The resulting woven structure is notable for its satisfying weight and tactile quality, as well as a gridded texture reminiscent of needlepoint.
Standard: 20" x 20"
Lumbar: 24" W 10" D

Point Fabric by Paul Smith + cotton down proof ticking with trillium fill (hypoallergenic down alternative)
Content: 97% Rayon, 3% Solution-Dyed Nylon
Country of Origin: USA
Finish: None

Pattern variation will occur with 001 Ivory and Ember.
Lead time: 4 weeks